iNz Residence EC
iNZ Residence (悦心雅轩), is the new EC in the West with cutting edge SMART LIVING technology. Inz has an abundance of luxury facilities that feeds to every lifestyle need.
iNZ Residence is developed by renowned developer CNQC QingJian Group, and this development comprises of 9 blocks of 15/16 storeys, with a total 497 luxurious residential units.
With a spacious land area of 354,229sqft along Choa Chua Kang Avenue 5, this development is able to fit in full condominium facilities, giving residents more space for enjoyment and relaxation.
There will be  a free 2 year shuttle bus service to Choa Chu Kang MRT to ease transportation needs.
iNZ Residence offers a wide range of options from 2 bedrooms to 5 bedrooms, high ceiling penthouses, as well as the unique 2 storey maisonette units.
For First-timers, you are eligible for up to $30k in CPF Grant.
Why Choose iNz Residence ?
Located Right Next To Tengah Forest Town – Singapore's Newest & Largest Smart, Sustainable Town. It is near to the Future Tengah MRT,
Near Bukit Panjang Integrated Transport Hub (complete in 2017) with an air-conditioned bus interchange seamlessly linked to Downtown Line MRT station (DT1)and LRT Station (BP6). Direct train to City Centre.
Close Proximity to the 2nd CBD Singapore, Jurong Lake District, Close To Jurong Innovation District & Minutes' Drive to Jurong Gateway.
Near To Choa Chu Kang MRT Station, Lot 1 Shopping Mall, Junction 10 Shopping Mall & Bukit Panjang Plaza
Excellent Connectivity to Shopping, Dining, e.g. JEM, JCUBE, Westgate, IMM, Jurong Point
Close Proximity to Prestigious Schools: South View Primary School, Bukit
Panjang Govt High, Choa Chu Kang Primary School,  De La Salle and more.
Close To Major Integrated Healthcare facilities in the West e.g Ng Teng Fong General Hospital & Jurong Community Hospital
Exclusive 497 Units EC Development By Multi-Award Winning Developer Qingjian Realty Pte Ltd.
Most importantly, buying this EC, will give you future profits, capital appreciation, buy now $7xx psf and future sell at $1,2xx psf when privatise.
No more big 4 bedroom EC units left in Choa Chu Kang
No more Choa Chu Kang EC launch, until 2019 (earliest)
Close proximity to the upcoming Jurong Lake District
Rare 5 bedroom maisonette units available
​Qingjian Realty based in Singapore is part of the Qingjian Group Co., Ltd., a conglomerate with a wide range of business operations such as contracting, investments, real estate development, capital management, logistics and more.
Since 1999, Qingjian Group has been developing many condos in Singapore, and this includes, Natura Loft Bishan (2008), Nin Residence(2010), RiverParc Residence EC (2011), RiverSound Residence (2011) and River Isles (2012), Bellewaters EC (2013), Bellewoods EC (2013), Visionaire EC (2014), INZ Residence (2017)
Inz Residence Pricing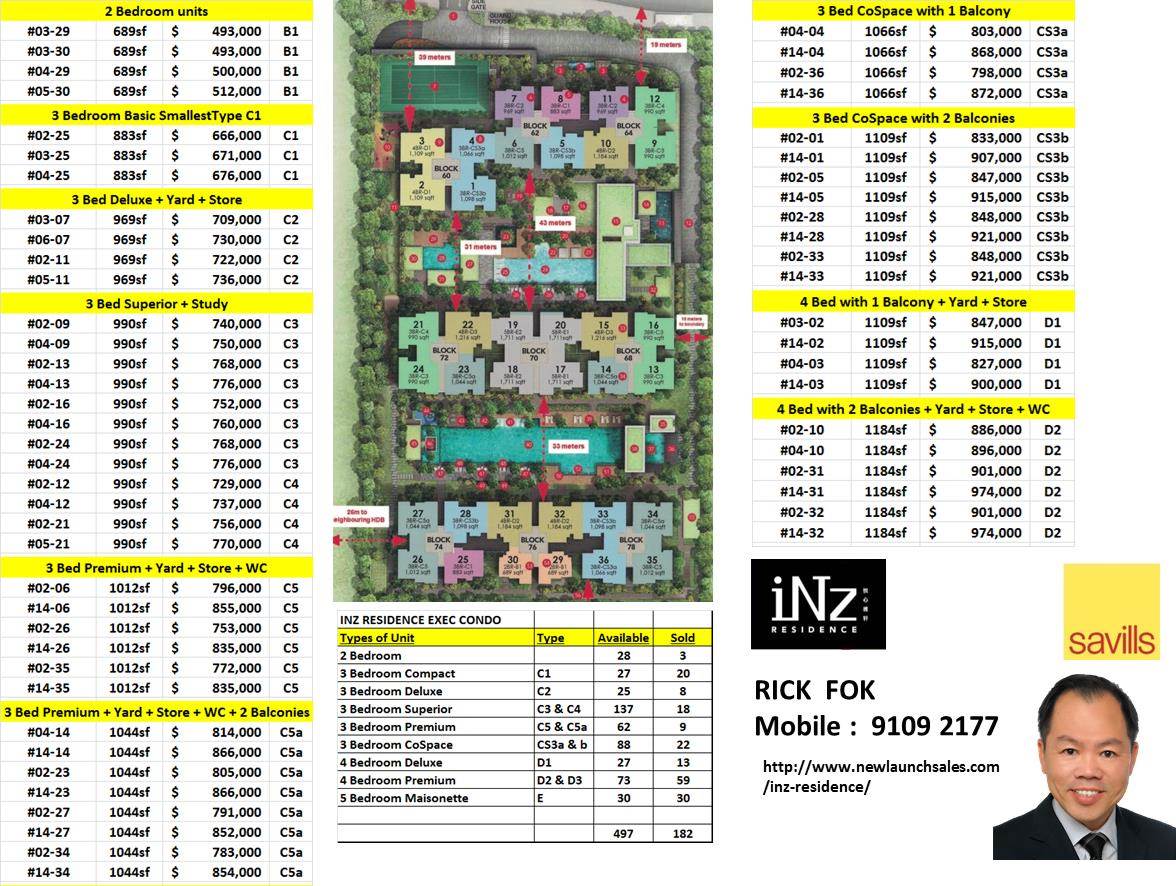 Inz rESIDENCE FLOOR PLANS
For tentative floorplans you may download this pdf
For EC purchase, you need to do an E-App, before booking of units. Kindly contact me to work through the procedures with you.
For more info on available units, please leave me your contact details, we will update you as soon as it is available.
iNz Residence, is located beside Singapore's 24th HDB Town, TENGAH.
Tengah new town, will be transformed into a Forest Town that is green, sustainable and smart.
iNz EC is strategically located just beside this new development.
Tengah
Tengah is located in the Western region of Singapore, Tengah is bounded by the Kranji Expressway (KJE), Pan-Island Expressway (PIE), Brickland Road and Bukit Batok Road. Homes are pampered with  lush greenery and nature.
An approximately 100-metre wide and 5km long forest corridor, a collaboration with National Parks Board which will form part of the larger network of greenery that connects the Western Water Catchment Area and the Central Catchment Nature Reserve. This forest corridor will be planted with rainforest tree species to transform it into a rich forest habitat. Amenities such as hiking trails would be incorporated in the corridor for the community to get close to nature and enjoy the rainforest.
For the first time, Singapore will also see a car-free Town Centre in an HDB town. The Tengah Town Centre will be designed amidst a lush park, with vehicles plying underground beneath the town centre.  It will offer a greener, car-lite, people-friendly and pedestrian-friendly environment.  All the roads in Tengah will also come with dedicated walking and cycling paths on both sides of the road, to enable residents to enjoy seamless and safe connections for walking and cycling.
Beyond green living, HDB will also leverage Information and Communication Technology in Tengah to enable "smart" living.  The development of Tengah will be guided by the Smart HDB Town Framework, introduced in 2014.  Four key dimensions : Smart Planning; Smart Environment; Smart Estate; Smart Living. Smart solutions can help create a more livable and safe living environment.
Tengah will be divided into 5 areas namely Plantation District, Garden District, Park District, Brickland District and Forest Hill District.
The centerpiece of green spaces in Tengah, offering a scenic and tranquil spot for residents to relax and enjoy various recreational activities.
Where residents can enjoy community gardening and urban farming in their own neighbourhood
Timeline
The exciting developments for Tengah will be rolled out progressively, with the first batch of flats to be launched in the Plantation District from 2018 onwards. When completed, Tengah is estimated to provide about 42,000 new homes. Of these, about 30,000 units will be for public housing and 12,000 units will be for private housing.
Kindly contact our sales person now. Rick Fok , CEA R013579A
Mobile : 9109 2177 Email : rickfoknh@gmail.com